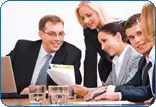 CORONA is being developed by M/s Corona Housing Pvt. Ltd. A part of the Group of Companies engaged in providing complete solutions in the fields of real estate, hospitality, manufacturing and education. Inspired by the visionary promoters Shri Jagmander Gupta and Shri R.M. Garg, the group has grown from strength to strength as a professionally managed conglomerate with diversified diversified interests.
Espousing to give an edge to an attitude rather than the people, Corona has evolved as a major force in real estate. Thanks to the vision of amalgamating the best in man and machine to extend an extra mile to lifestyles, the conglomerate has surged ahead from one milestone to another.
The Belief is simple, "Integrate experience, professionalism and technology; the result will be nothing less than landmarks".
Our strict adherence to stringent quality norms and constant focus on details have become the pillars on which our team stands. From here on, the conglomerate is all set to augment new developments including Malls, Technology Parks, Corporate Parks, Group Housing, Hotels, Educational Institutes and SEZ's.
The group strives to its commitment to build up their businesses keeping in view the overall betterment of the society by "CREATING VALUE FOR LIFE"